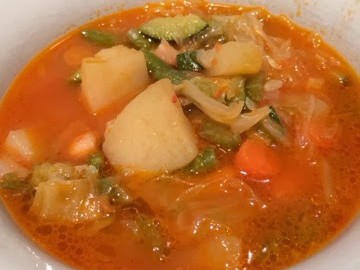 A real winner for family, parties and food gift to a sick friend. It can be the centerpiece to dinner. Johanna adapted this from Marcella Hazan.
1 lb zucchini
1/2 cup olive oil
2 onions — thinly sliced
1 cup carrots — diced
1 cup celery — diced
1 cup green beans — sliced
3 cups Chinese cabbage — thinly shredded
1 1/2 cups white beans (or canned cannelloni beans)
8 cups chicken broth
4 peeled and seeded tomatoes — chopped
salt and freshly ground pepper
1 teaspoon oregano
1 cup very small pasta shells
Soak and cook beans. Wash zucchini well, trim ends and dice. Cook onion in oil until wilted and pale gold. Add carrots and cook 3 minutes, stirring once or twice. Add celery and cook 3 minutes stirring occasionally. Add green beans, cook 3 minutes. Add zucchini and stir all occasionally after a few minutes. Add cabbage and cook another 6 minutes. Add tomatoes, cook 5 minutes. Pour broth, salt and pepper. Cover and simmer 2 to 2 1/2 hours. Add the drained white beans and cook 15 minutes. Finally, add the pasta and cook 20 to 30 minutes until pasta is done and you have a thick soup.