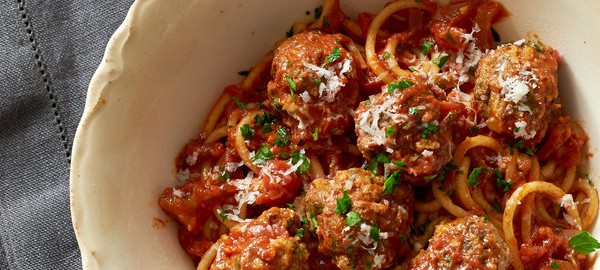 This is a modified recipe published in the New York Times. The dish is totally addicting especially in winter. It takes me about 40 minutes to get this dish in the oven. This will make about 12 servings. The dish freezes wonderfully. Just divide the left over meatball dish into any size/number of freezer servings. Defrost gently, then flash heat quickly on the stove top.
Combine:
1 pound each of ground lamb, pork, beef
½ small (old) baguette with crust trimmed (soaked for a few minutes until soft,
then squeezed well to rid the water)
cup of chopped parsley
¾ cup of chopped fresh mint
some salt, pepper, and red paper flakes (generous amount)
1 ½ cups of pecorino romano cheese
1 large onion sautéed to clarity with 6 garlic cloves
Use large wooden spoon to mix. Then use your hands (wash and scrub hands like surgeon prior to doing this). Get a uniform mixture.
Get ready to cook:
Two large skillets heating on the burner with olive oil
Two large shallow glass baking pans with plenty of paper towels. Line some paper towels at the bottom of each pan.
Heat the skillets and put some olive oil in each. Work both skillets with the meatballs. Place small golfball size wads in the skillets- 6-8 per skillet depending on size of skillet. Brown on all sides without cooking through then remove meatballs to the baking pans for drying. Use paper towels as needed to layer between meatballs. The goal is to get the excess oil off. Don't worry if the meatballs break apart. Scrape the skillets a bit between waves of meatballs and put the scraping in the baking pans. No big deal. After all the meatballs are cooked and in the pans, remove the paper towels and just let the wonderful browned meat sit at the bottom of each baking pan.
The sauce:
Put a cup+ of good red wine in each skillet (still firing) and work the grizzle in pans into the wine. Yeah! Reduce the wine mixture a bit. Now add your favorite PREPARED vegetarian tomato sauce to the mixtures- 2/3 of a quart bottle per skillet. No way to go wrong here. Could go with a bottle of prepared sauce and a large can of good quality diced tomatoes. Cook down for a few more minutes. If to thick, add some more canned diced tomatoes. Then pour the contents of each skillet over the meatballs. Put both pans in an oven for 30 minutes at 325. Cover with tin foil. Serve with very good pasta, salad, rapini or broccoli.