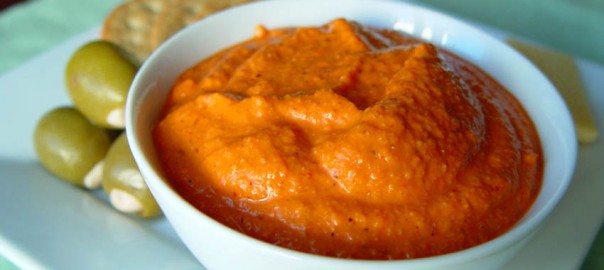 Johanna serves these two wonderful sauces (one green, the other red) on the side with chicken. Great for parties or family. We discovered Mojo Verde in the Canary Islands last summer- a savory cilantro-based aioli with some punch. The Romesco sauce is from Andalucia of Moorish origin.
Mojo Verde
Ingredients:
1 garlic bulb
200ml Extra Virgin Olive Oil
150ml White Wine Vinegar
1 handful of fresh coriander
½ teaspoon of cumin
1 teaspoon sea salt
Preparation:
Firstly, peel the garlic cloves
Place the garlic, cumin, vinegar and salt in a blender and puree until finely chopped.
Chop the coriander leaves
Finally slowly mix in the coriander leaves and olive oil. The goal is a rather whipped fluffy sauce.
Romesco Sauce
3 tomatoes, halved
10 garlic cloves
2 slices crusty bread
1/2 cup whole almonds, with skin
1/2 cup hazelnuts or pine nuts
1 pimento or roasted red pepper
1/2 cup red wine vinegar
3/4 cup olive oil
1 teaspoon paprika
2 teaspoons kosher salt
3 tablespoons olive oil
2 pounds prawns, shelled, tails removed, heads on
Preheat oven to 450 degrees F.
Arrange the tomatoes, garlic, bread, and nuts on a baking sheet; roast for 10 to 15 minutes. Transfer to a food processor and pulse to roughly break up. Add the pimentos, vinegar, oil, and paprika. Pulse again until well combined, add salt. This sauce is best if allowed to rest so the flavors can meld (may be made a day in advance).