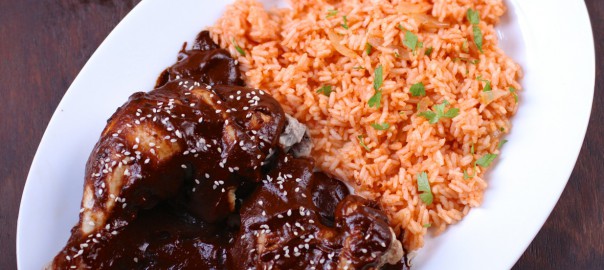 The key to this dish is buying the mole paste. Not worth making it yourself. I have seen this made and I promise you that good mole paste is very complicated stuff (4 different chiles, many herbs, and of course, unsweetened chocolate). I get the paste directly from Mexico when we go or when we get visitors from Mexico. If you can find La Soledad Mole Negro o Rojo you are in business.
This is what I do with the concentrated paste:
In a tall thick metal pot
Saute one large onion until clear then mash it in the pot Add a half quart of high quality chicken broth
ON VERY LOW HEAT (no boiling or simmering!)
Cut in a couple of tablespoons of unsweetened well ground peanut butter
Cut in many tablespoons of mole paste a moderate amount at a time. I used a potato masher to work the paste into the sauce. Then I look and taste and add more as needed. You can't really overdue it. The goal is to get a very dark rich sauce with the consistency of thin hot fudge. You want sauce, not soup. If too thick, add a bit more chicken broth.