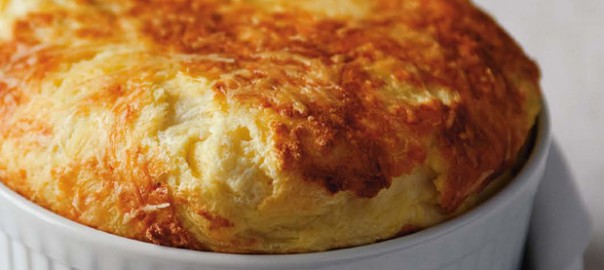 Johanna whips this up to perfection each time. A perfect thing to make when you have small pieces of various cheeses in the fridge. Anything works. Before folding in whites you can add some cut up mushrooms and/or spinach. Eggs whites whip better when warm. Do not open oven while baking.
3 tablespoons butter, plus extra for greasing the dish
6 eggs, separated, at room temperature
3 tablespoons flour
1 cup milk
8 ounces sharp Cheddar, roughly grated
Pinch of salt
Dash cayenne pepper (optional)
Preheat the oven to 400 degrees. Lightly butter an 8-inch-round, 3-to-4-inch-high ceramic dish.
Bring an inch of water to a simmer in the bottom of double boiler. In a medium bowl, beat the egg yolks well using a wire whisk. In the top of the double boiler, melt the butter. Add the flour and stir until combined. Add the milk and stir constantly for 5 minutes. Add the Cheddar, salt and, if you choose, the cayenne, and stir until the cheese has melted and the mixture is smooth. Remove from the heat and stir in the egg yolks.
Using an electric mixer fitted with a whisk attachment, beat the egg whites to stiff peaks. Transfer to a large bowl.
Stir about ½ cup of the egg whites into the cheese mixture, then drizzle the cheese mixture over the egg whites and gently fold together with a spatula, taking care not to deflate the egg whites. Pour the mixture into the prepared dish and place in a shallow pan filled with about 1½ inches of warm water. Reduce the oven to 350 degrees. Place the pans in the oven and cook for 45 minutes, until the soufflé is browned and has risen about ½ inch above the edge of the dish. (The smaller the dish, the higher the soufflé will rise.) If you choose, serve with a green salad. Serves 3 to 4. Adapted from Polly Walker Beal.