Meat Balls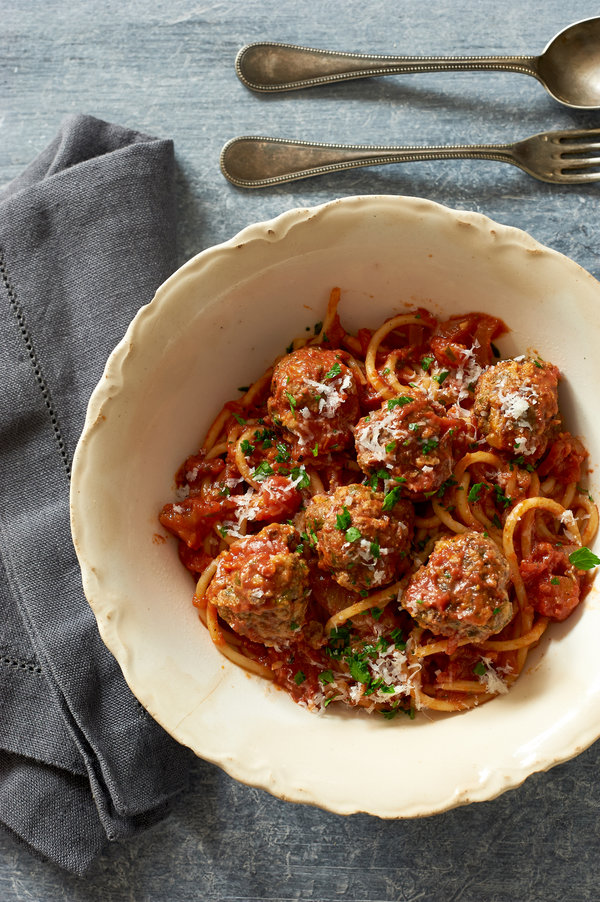 This is a modified recipe published in the New York Times. The dish is totally addicting especially in winter. It takes me about 40 minutes to get this dish in the oven. This will make about 12 servings. The dish freezes wonderfully. Just divide the left over meatball dish into any size/number of freezer servings. Defrost gently, then flash heat quickly on the stove top.
Combine:
1 pound each of ground lamb, pork, beef
½ small (old) baguette with crust trimmed (soaked for a few minutes until soft,
then squeezed well to rid the water)
cup of chopped parsley
¾ cup of chopped fresh mint
some salt, pepper, and red paper flakes (generous amount)
1 ½ cups of pecorino romano cheese
1 large onion sautéed to clarity with 6 garlic cloves
Use large wooden spoon to mix. Then use your hands (wash and scrub hands like surgeon prior to doing this). Get a uniform mixture.
Get ready to cook:
Two large skillets heating on the burner with olive oil
Two large shallow glass baking pans with plenty of paper towels. Line some paper towels at the bottom of each pan.
Heat the skillets and put some olive oil in each. Work both skillets with the meatballs. Place small golfball size wads in the skillets- 6-8 per skillet depending on size of skillet. Brown on all sides without cooking through then remove meatballs to the baking pans for drying. Use paper towels as needed to layer between meatballs. The goal is to get the excess oil off. Don't worry if the meatballs break apart. Scrape the skillets a bit between waves of meatballs and put the scraping in the baking pans. No big deal. After all the meatballs are cooked and in the pans, remove the paper towels and just let the wonderful browned meat sit at the bottom of each baking pan.
The sauce:
Put a cup+ of good red wine in each skillet (still firing) and work the grizzle in pans into the wine. Yeah! Reduce the wine mixture a bit. Now add your favorite PREPARED vegetarian tomato sauce to the mixtures- 2/3 of a quart bottle per skillet. No way to go wrong here. Could go with a bottle of prepared sauce and a large can of good quality diced tomatoes. Cook down for a few more minutes. If to thick, add some more canned diced tomatoes. Then pour the contents of each skillet over the meatballs. Put both pans in an oven for 30 minutes at 325. Cover with tin foil. Serve with very good pasta, salad, rapini or broccoli.
Lakshmi Khatri's Mother's Chicken Tikka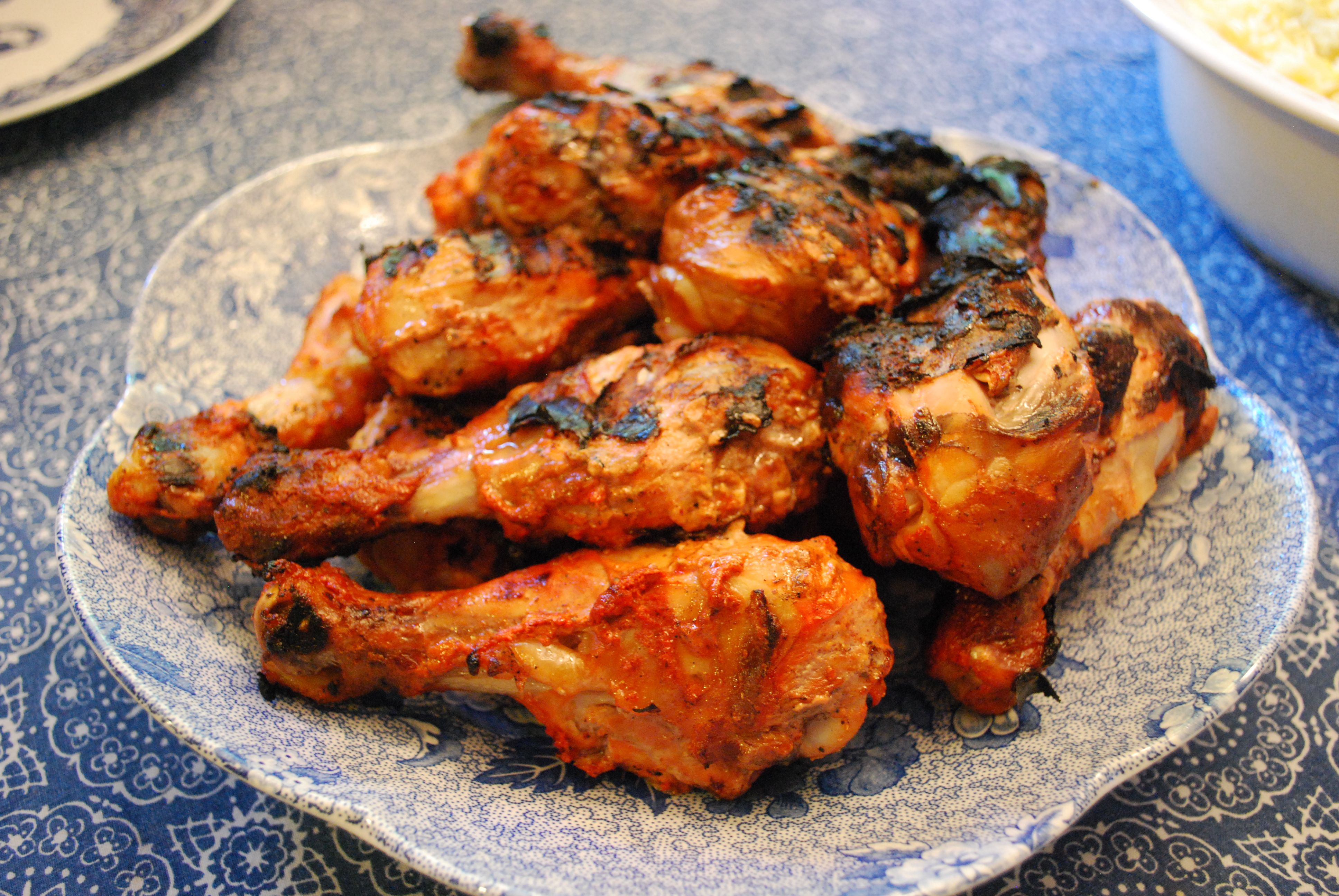 I love Indian food but find it a challenge to prepare. My colleague Dr. Khatri and I made an Indian feast for our resident physicians at my house. Here is a marvelous and quick main dish for 4 or 40. It's a great party dish because you can prepare the meat the day before and just barbecue the next day. Great served at room temperature so the dish can be waiting for your guests.
Go out and get a box or two of Shan Chicken Tikka BBQ Mix available at any Indian grocery store.
2 whole chickens cut up with bone. Remove skin. Cut the breasts and thighs into smaller pieces (quarter the breast, halve the thighs). Put chicken in a mixture of vegetable oil (about ½ cup), 6 cloves of garlic, couple tablespoons of ginger paste (or a bunch of fresh ginger), lemon juice (6 lemons worth) and a box of chicken Tikka spice mix. Combine well and rest overnight covered in the refrigerator. Then just barbecue and rock!
Korean Flank Steak (Bulgogi)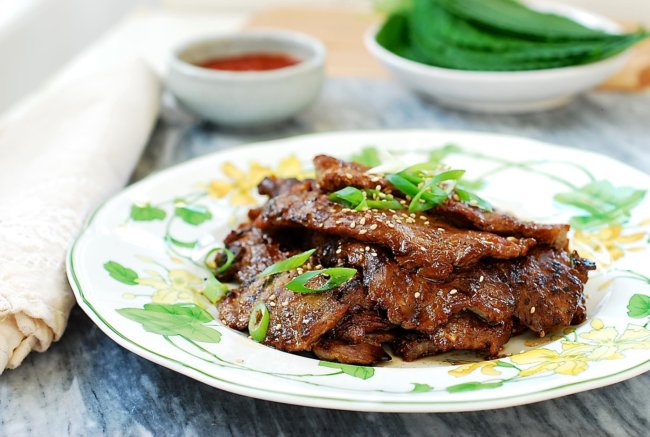 Another winning meat dish with easy advanced preparation. Serves 4-6.
Combine:
2 lbs of flank steak (cut into thin strips- 1/4 inch thick- against grain)
2 tbs of sesame seeds browned
3 chopped green onions
6 cloves of garlic mashed
¼ cup of soy souce
2 tbs of sesame oil
¼ cup of sugar
4 tbs of dry sherry
some black pepper
Let rest overnight.
Barbecue. DO NOT OVERCOOK. Strips go on and off in a minute or two. Work the grill attentively. Should be medium rare on the inside. Check by sampling to get the rhythm, but don't eat it all before serving!
Chicken or Fish with Two Spanish Sauces
Johanna serves these two wonderful sauces (one green, the other red) on the side with chicken. Great for parties or family. We discovered Mojo Verde in the Canary Islands last summer- a savory cilantro-based aioli with some punch. The Romesco sauce is from Andalucia of Moorish origin.
Mojo Verde
Ingredients:
1 garlic bulb
200ml Extra Virgin Olive Oil
150ml White Wine Vinegar
1 handful of fresh coriander
½ teaspoon of cumin
1 teaspoon sea salt
Preparation:
Firstly, peel the garlic cloves
Place the garlic, cumin, vinegar and salt in a blender and puree until finely chopped.
Chop the coriander leaves
Finally slowly mix in the coriander leaves and olive oil. The goal is a rather whipped fluffy sauce.
Romesco Sauce
3 tomatoes, halved
10 garlic cloves
2 slices crusty bread
1/2 cup whole almonds, with skin
1/2 cup hazelnuts or pine nuts
1 pimento or roasted red pepper
1/2 cup red wine vinegar
3/4 cup olive oil
1 teaspoon paprika
2 teaspoons kosher salt
3 tablespoons olive oil
2 pounds prawns, shelled, tails removed, heads on
Preheat oven to 450 degrees F.
Arrange the tomatoes, garlic, bread, and nuts on a baking sheet; roast for 10 to 15 minutes. Transfer to a food processor and pulse to roughly break up. Add the pimentos, vinegar, oil, and paprika. Pulse again until well combined, add salt. This sauce is best if allowed to rest so the flavors can meld (may be made a day in advance).
Chicken Mole
The key to this dish is buying the mole paste. Not worth making it yourself. I have seen this made and I promise you that good mole paste is very complicated stuff (4 different chiles, many herbs, and of course, unsweetened chocolate). I get the paste directly from Mexico when we go or when we get visitors from Mexico. If you can find La Soledad Mole Negro o Rojo you are in business.
This is what I do with the concentrated paste:
In a tall thick metal pot
Saute one large onion until clear then mash it in the pot Add a half quart of high quality chicken broth
ON VERY LOW HEAT (no boiling or simmering!)
Cut in a couple of tablespoons of unsweetened well ground peanut butter
Cut in many tablespoons of mole paste a moderate amount at a time. I used a potato masher to work the paste into the sauce. Then I look and taste and add more as needed. You can't really overdue it. The goal is to get a very dark rich sauce with the consistency of thin hot fudge. You want sauce, not soup. If too thick- add a bit more chicken broth.
Minestrone Soup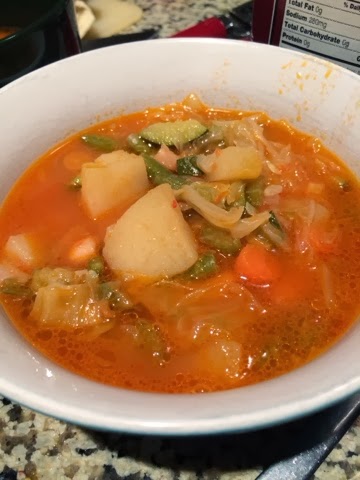 A real winner for family, parties and food gift to a sick friend. It can be the centerpiece to dinner. Johanna adapted this from Marcella Hazan.
1 lb zucchini
1/2 cup olive oil
2 onions — thinly sliced
1 cup carrots — diced
1 cup celery — diced
1 cup green beans — sliced
3 cups Chinese cabbage — thinly shredded
1 1/2 cups white beans (or canned cannelloni beans)
8 cups chicken broth
4 peeled and seeded tomatoes — chopped
salt and freshly ground pepper
1 teaspoon oregano
1 cup very small pasta shells
Soak and cook beans. Wash zucchini well, trim ends and dice.Cook onion in oil until wilted and pale gold. Add carrots and cook 3 minutes, stirring once or twice. Add celery and cook 3 minutes stirring occasionally. Add green beans, cook 3 minutes. Add zucchini and stir all occasionally after a few minutes. Add cabbage and cook another 6 minutes. Add tomatoes, cook 5 minutes. Pour broth, salt and pepper. Cover and simmer 2 to 2 1/2 hours. Add the drained white beans and cook 15 minutes. Finally, add the pasta and cook 20 to 30 minutes until pasta is done and you have a thick soup.
Cheese Soufflé
Johanna whips this up to perfection each time. A perfect thing to make when you have small pieces of various cheeses in the fridge. Anything works. Before folding in whites you can add some cut up mushrooms and/or spinach. Eggs whites whip better when warm. Do not open oven while baking.
3 tablespoons butter, plus extra for greasing the dish
6 eggs, separated, at room temperature
3 tablespoons flour
1 cup milk
8 ounces sharp Cheddar, roughly grated
Pinch of salt
Dash cayenne pepper (optional)
Preheat the oven to 400 degrees. Lightly butter an 8-inch-round, 3-to-4-inch-high ceramic dish.
Bring an inch of water to a simmer in the bottom of double boiler. In a medium bowl, beat the egg yolks well using a wire whisk. In the top of the double boiler, melt the butter. Add the flour and stir until combined. Add the milk and stir constantly for 5 minutes. Add the Cheddar, salt and, if you choose, the cayenne, and stir until the cheese has melted and the mixture is smooth. Remove from the heat and stir in the egg yolks.
Using an electric mixer fitted with a whisk attachment, beat the egg whites to stiff peaks. Transfer to a large bowl.
Stir about ½ cup of the egg whites into the cheese mixture, then drizzle the cheese mixture over the egg whites and gently fold together with a spatula, taking care not to deflate the egg whites. Pour the mixture into the prepared dish and place in a shallow pan filled with about 1½ inches of warm water. Reduce the oven to 350 degrees. Place the pans in the oven and cook for 45 minutes, until the soufflé is browned and has risen about ½ inch above the edge of the dish. (The smaller the dish, the higher the soufflé will rise.) If you choose, serve with a green salad. Serves 3 to 4. Adapted from Polly Walker Beal.
Guacamole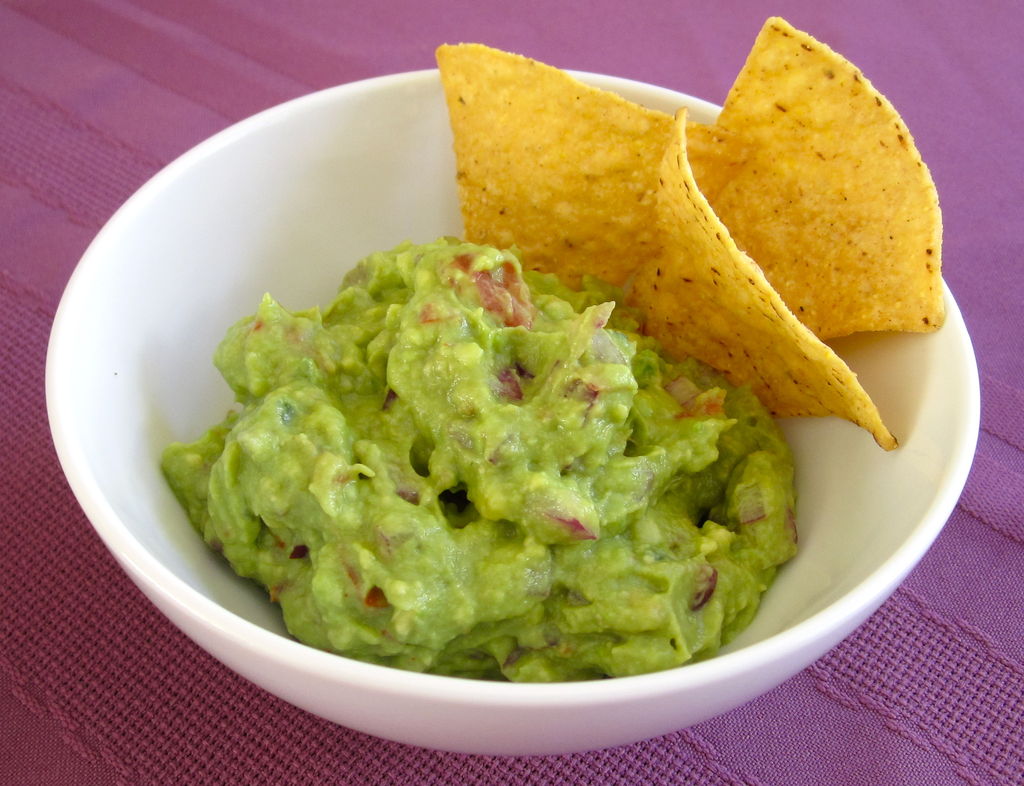 Traditional guacamole is very basic. The key is very good avocados and fresh cilantro. It's a challenge to buy perfect avocados in the U.S. I buy young and then mature them at home in a paper bag. Mash two avocados. Add some salt to taste. Add very finely chopped onion. Add chopped cilantro. Officially only the leaves are chopped but I am a bit lazy on this and some very small stems make it in. Add good quality tomato finely chopped. If you don't have good tomatoes I recommend skipping this step. Add heat: many options. I like dicing jalapenos or seranos from the bottle or can and finishing with a bit of Cholula hot sauce or Tabasco- something with a bit of vinegar and smokey pepper.
Catalan Pan Con Tomate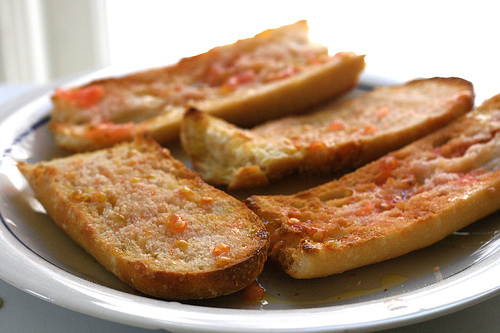 This bread is served at lunch and dinner in Catalunya, Spain. I modify the classic preparation. Perfect solution for day or two old baguette! Toast the bread. Rub fresh garlic on the bread. Rub tomato over the dry bread. Drizzle high quality olive oil on top using a teaspoon. Sprinkle a little salt. The bread should not be soggy. Serve with mains or many sides like hard and soft cheese, olives, smoked fish.
Salad Dressing
People go crazy over my basic dressing. I never measure. Just adjust to taste. Ingredients can be placed directly in the salad or prepared ahead: High quality olive oil, lemon juice, garlic, soy sauce in that order. For a typical generous salad for 5, something like: three tablespoons of oil, half a lemon, clove of garlic, soy sauce to taste. If too lemony, add some oil. Don't overdose with soy sauce.